If you've run your business for at least few months, you know how time consuming planning your marketing can be. Hour and hours spent by figuring out what to post, hunting for images, crafting (hopefully) engaging caption just to find out the response isn't what you hoped for.
Been there, done that. More than once, actually.
And you would think it doesn't take a scientist to figure out that doing things randomly brings results that are exactly that ~ random. But even if you try your best to write your content with specific goal in mind, there are more obstacles on the road to be aware of. Without a systematic content marketing strategy and planning in place, it can get really easy to forget to write, publish, or promote your content when you get busy. Because let's face it, we all know that running a business gets pretty busy all the time.
And that's where we discovered our new best friend – The Content Planner.
👍 The Unicorn Among Planners
We have to mention one thing first. There are many, MANY, MANY planners out there. Each year you can purchase them in your local paper stores, on Etsy, Amazon, you name it.
Weird way to start a review you say? Not really.
In fact, we want to spell one thing as soon as possible…
The Content Planner is not your usual annual paper store planner. It's the first and only physical planning system designed to help the passionate entrepreneur effectively plan her social media and blog content month-to-month.
It is a product developed out of need, by a designer & marketer who is super passionate about helping others succeed the same way she did.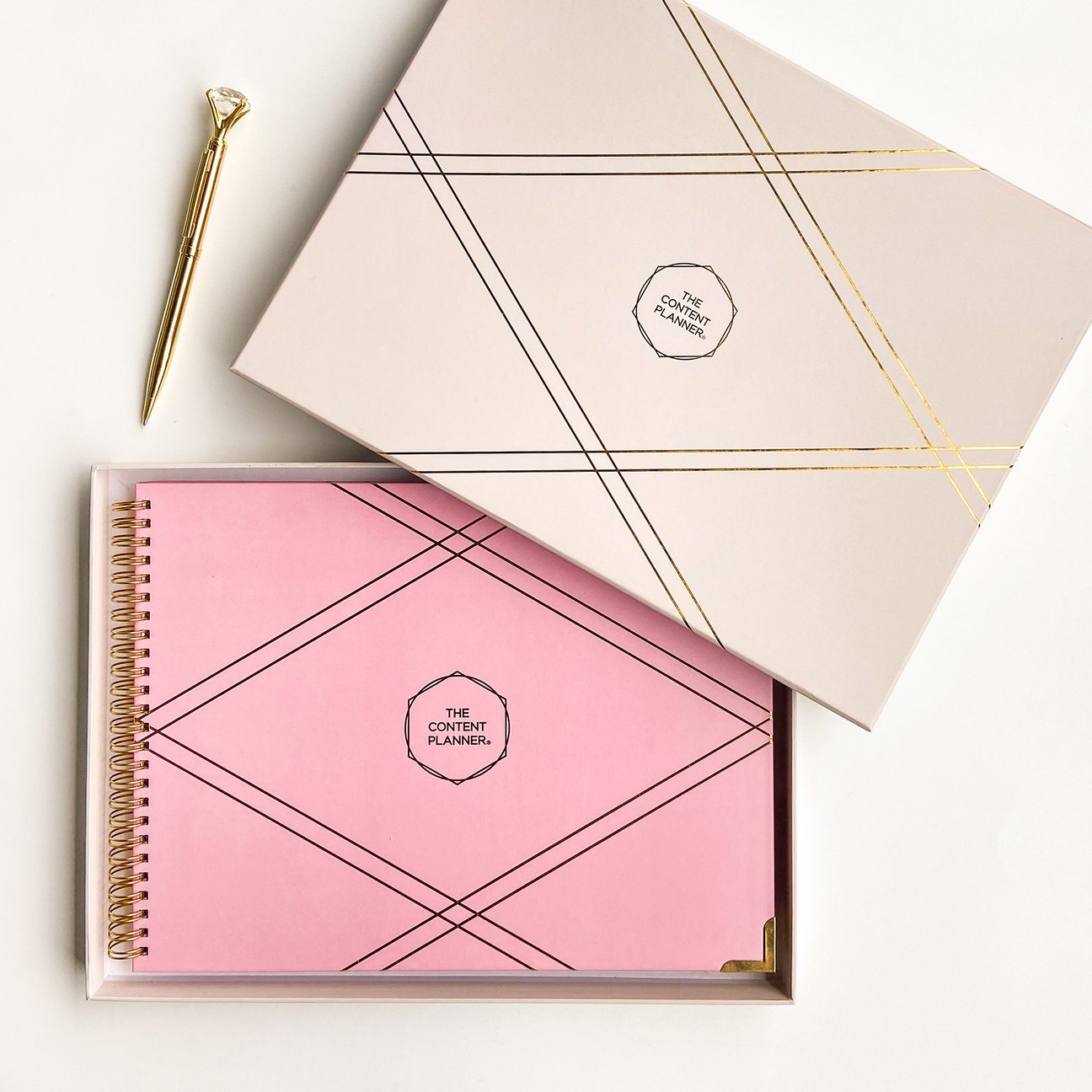 The most unique feature we love the most is the fact that you can start working with this planner anytime. This planner has 15 fillable blank sheets ready for you, which means there's no need to start in January to use its full potential.
Purchased the planner in the middle of a year? No problem, simply choose a sticker of the month you need and stick it to the fillable page, write the dates & start planning.
The Content Planner also comes with sheets of useful stickers, beautiful diamond pen and packaging you want to keep just because. Talk about on-brand experience!
👍 Pretty & Functional Content Planner
So here's the thing, the product is more than just nice. If design school taught us anything, it's the fact that pretty doesn't cut it. Not long term anyway.
Functional design is the best type of design, and Kat Gaskin knew it when designing this planner. She knew you will need help with daily planning as well as monthly stats recording, She worked hard on providing layout that gives you customization you need while keeping you accountable. She knows how important it is to see your goals and plans written down (did you know your brain will take them much more seriously that way?).
More importantly though, she didn't just design a planner and called it a day.
She provides as much content strategy guides as possible. We learnt from her Virtual Content Planning Workshop in 2020 and enjoyed her FREE 7-day #PlanHer Challenge that we encourage you to sign up for! 
The Nitty Gritty Details
Fillable 15-month planner

At-a-glance monthly spreads
Ideas for holidays and retail dates for US, Canada, UK, Australia + New Zealand
Monthly and weekly goal setting
Custom-designed planner stickers
Writing space for your biggest ideas
Additional lined and grid pages
Protective box to store your planner while traveling

+ New for 2021

Re-designed social media stickers
Re-designed monthly tabs
Updated layout features
Better shipping options for Canada
3 new colors:

Coffee outside box + Cream planner
Mango outside box + Tropical Pink planner
Linen outside box + Blush planner
👍 Not Just a Planner, a Real Community
You would think that a planner is just that ~ a product. But The Content Planner proves it doesn't have to be that case. Kat often provides valuable advice & extra tools (free resources page), and she often shares her honest opinions on various topics on IG stories.
She is the content queen you didn't know you need in your business life because she cares about the success of your business.
Do we sound like in love? 😀
That's because you haven't heard the Spotify playlists she prepared for each of the planner's color combo. Yes, for real.
BUT WAIT, IT WOULDN'T BE A PROPER REVIEW IF WE DIDN'T MENTION SOME NEGATIVES TOO. HERE'S PROBABLY THE ONLY ONE…
👎 Prepare a Space in Your Bag/Suitcase
Even though the planner is super light, its size can be an issue especially if you plan traveling with it on a daily basis. Especially if you plan to keep it extra safe and use the outer cover. It's not so much of a disadvantage and more something to be aware of tough.
Once you fall in love with The Content Planner like we did, you'll gladly buy a bigger purse or leave one shirt from your suitcase at home just to fit the planner in instead.